SPOONFED TRIBE
with

EFFINAY'S

•

END OF THE WORLD PARADE

•

ANIMAL SPIRIT

•

MANNY THE MARTYR

•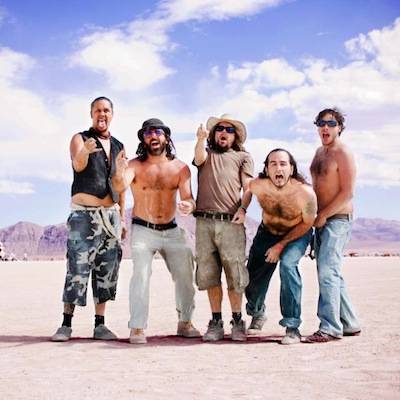 SPOONFED TRIBE Biography
Formed in the Fort Worth area in 1999, Spoonfed Tribe is a musical/visual group known for mesmerizing live shows combining hypnotic walls of percussion, psychedelic sonics and mind-expanding visuals. Since their debut, the Tribe has remained on the road, building a sizeable fan base inspired by appearances at music fests including Lollapalooza, Joshua Tree, Voodoo Music Experience and Wakarusa, sharing bills with acts such as the Red Hot Chili Peppers, the Flaming Lips, Nine Inch Nails, Blues Traveler, Galactic and many more.
The band has released seven albums, including 2010's Live from DFW and is in the process of releasing the follow-up to 2007's Public Service Announcement. It is called "Enjoy the Ride" and is out May 2013.
"To describe a Spoonfed Tribe gathering would take too many words, talking too small to measure what is gained by the actual experience of it all. So, to do our best, imagine a show that captures all senses, presents all musical styles, glows with a fluorescent fury, and creates space to be different and unique, all while making you dance like an idiot!" Josh Hogan - My Denton Music
Description A solid, original, avant-garde rock act. With two drummers, their music easily turns from song into a percussive wall of sound. The rhythmic therapy creates a soul-feeding atmosphere, while making you dance like you just don't care!
Band Interests Progress - Change - Evolution - Life
Words that Relate
Beats that Vibrate Artists We Also Like
NIN, Red Hot Chili Peppers, The Verve, The Velvet Underground, Jane's Addiction, Fishbone, Sly and the Family Stone, Mike Dillon, Les Claypool, JFJO, Pantera, Phish, Van Halen, Echobrain, NOFX, Depeche Mode, Katsuk, That One Guy, EOTO, Wookiefoot